NEW CD OUT:   DEDICATIONS
Zurich Jazz Orchestra & Steffen Schorn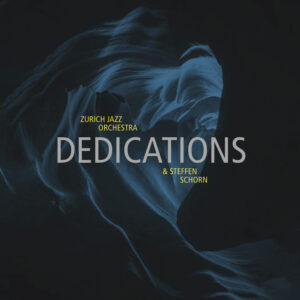 MONS records    
Zurich Jazz Orchestra
release concert: april 15, 2021
release date: april 16,  2021
---
hr2 Jazz Now:
"Eine Weltklasse Big Band mit einem aussergewöhnlichen Komponisten"
RONDO, Mai 2021:
"Steffen Schorn zählt zu den besten Komponisten und Arrangeuren der aktuellen Jazzszene… Großartig."
allaboutjazz.com, Mai 2021:
"a colorful listening experience …  with exuberant innovation … dreamily and unconventionally elegant."
Michael van Gee, Jazz´n´More
"farbenreiche, sehr differenzierte und ausgeklügelte Stücke, die die Qualitäten des ZJO und ihrer grossartigen Solisten unterstreichen."
---
Tracklist
01 The Mad Code 01:56
02 Monsieur Pf. 07:01
03 So eine … 04:50
04 Martha 07:47
05 Til Charlotte 02:29
06 Walzer Part I 06:16
07 Walzer Part II 04:07
08 Walzer Part III 03:29
All tracks composed & arranged by Steffen Schorn except «Til Charlotte», composed by Lars Andreas Haug, arranged by Steffen Schorn.
Lineup
Steffen Schorn cond/comp, Murat Cevik fl, Reto Anneler fl/cl/sax, Lukas Heuss sax/cl, Thomas Lüthi sax/cl, Tobias Pfister sax/cl, Nils Fischer sax/cl, Patrick Ottiger tp/flh, Wolfgang Häuptli tp/flh, Bernhard Schoch tp/flh, Raphael Kalt tp/flh, Adrian Weber tb, René Mosele tb, Silvio Cadotsch tb, Don Randolph tb, Gregor Müller p/keyb, Theo Kapilidis g, Patrick Sommer b, Pius Baschnagel dr/perc
The European jazz scene boasts a number of world class professional Big Bands, all with their own rich history and tradition. The Zurich Jazz Orchestra, founded in 1995, undoubtedly belongs to this exclusive club.
The big band recorded its fifth studio album in the winter of 2020/21, the second under the direction of Steffen Schorn, who was musical director for six years before changing to his current role as congenial composer in residence.
Fortunately. The album "Dedications" is a worthy successor to "Three Pictures", released in 2018. Schorn's compositions and thus the sound of the orchestra have, if at all possible, become even richer, more colorful, more differentiated, but at the same time more powerful. The album is proof of the fact that the sound spectrum and the possibilities of a top-class big band are almost unlimited. And if there were limits, they could be shifted with ease by someone like Steffen Schorn. "I loved working with this band, and when I took up the position of orchestra leader, it came at just the right time. I still had a lot of to-dos on my musical bucket list, and I knew this band had what it took to reach all my aims".
"Dedications" is proof that Steffen Schorn has been able to tick off a thing or two on his bucket list. The music on the album is sophisticated yet accessible, staking out the essential themes of modern big band music and all its options at once. From the opener "The Mad Code", originally written for solo piano and now completely re-orchestrated for the ZJO, to the pan-diatonic "Monsieur Pf.", a tongue-in-cheek reference to a German police officer, to "Walzer", the three-part closing tune that works with different harmonic layers, the Zurich Jazz Orchestra fits perfectly and flawlessly into its role as mediator of everything human – and superhuman, at times.
It oscillates with ease between a wall of sound and intimate chamber music, between force and finesse. You don't ever get tired of listening to such a band.