Steffen Schorn is an internationally reknown low woodwind specialist, composer, improviser and conductor. He has been performing extensively around the world in more than 70 countries and won numerous prizes and awards.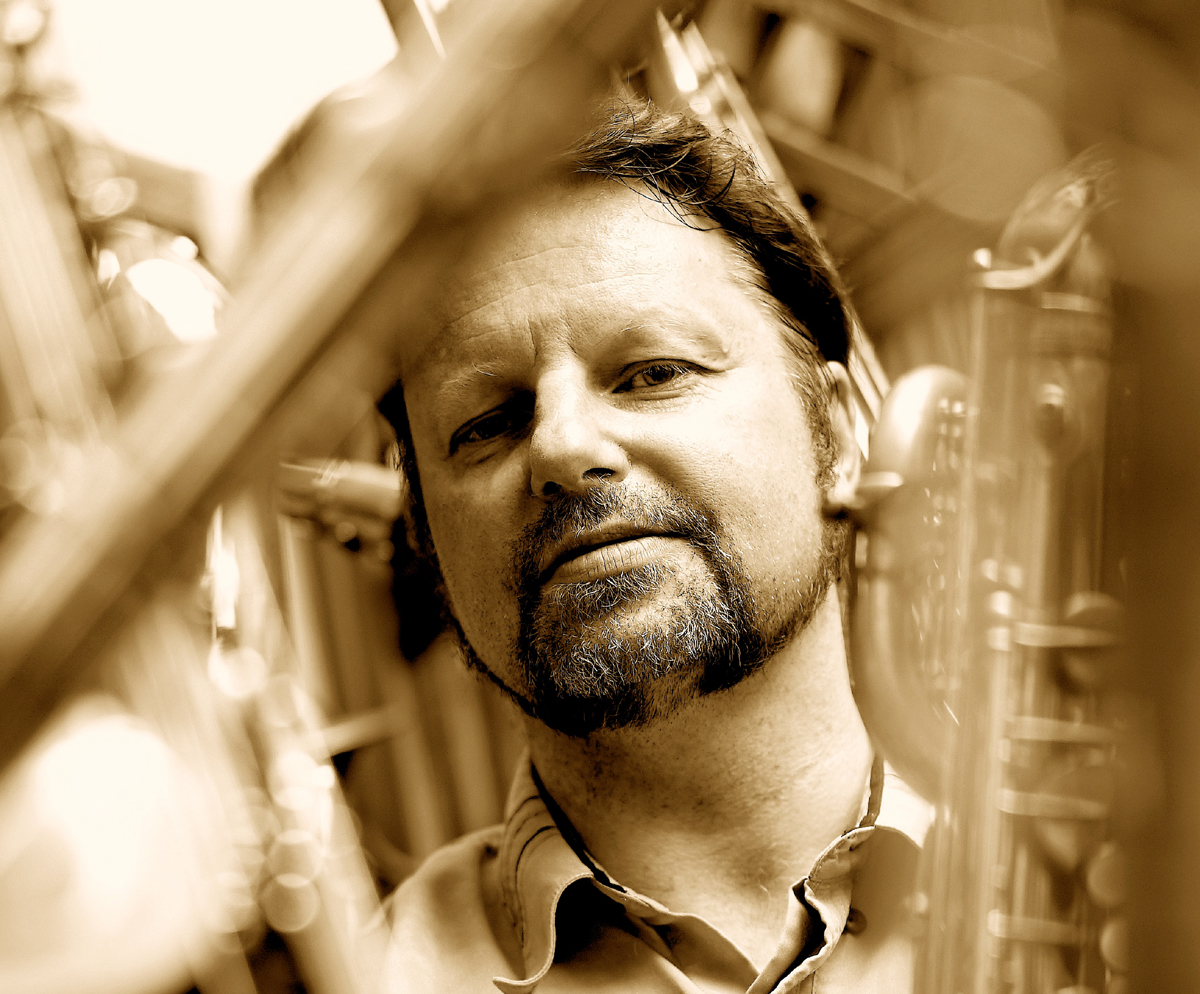 As a specialist for the low end of the woodwind family he has worked together leading figures in the international jazz world like Hermeto Pascoal e Grupo, Natalie Cole, Maria Schneider, Al Jarreau, Vince Mendoza, Don Cherry, Scott Robinson, as well as Ensemble Modern, Raschèr Saxophone Quartet, Hamburger Staatsoper, Doelen Ensemble Rotterdam, Ensemble Denada Norway, Brussels Jazz Orchestra, The Orchestra Denmark.
In his working bands like Soul Twins, Schorn Puntin Duo, Triosphere, Kölner Saxophon Mafia, Steffen Schorn Septet, Universe of Possibilities, he has developed a personal tone language combining spontaneity and structure with sophisticated groove.
His works have been performed in many countries, including commissioned works for Donaueschinger Musiktage, Oslo Jazz Festival, Beethovenfest Bonn, Int New Jazz Meeting Baden Baden, Roaring Hooves Festival Mongolia, Festa do Jazz Lisboa, Romanischer Sommer Köln
As a conductor he has worked with international Ensembles like the Norwegian Wind Ensemble, Danish Chamber Players, Nuremberg Symphonic Orchestra, Netherlands Youth Orchestra & Youth Jazz Orchestra, as well as all German Radio Big Bands: WDR, NDR, HR and SWR.
His repertoire for large and small ensembles consists of 11 concert suites, an inner opera, a selection of Jazz-based tunes called "Songbook", the rhythmically advanced "Groovebook" and over 30 arrangements of tunes by the Brazilian genius Hermeto Pascoal.
Since 2001 he is professor for saxophone and composition and artistic head of the jazz department at the Musikhoschschule in Nürnberg.
From 2009 to 2012 he was curator for "realtime music" with the Norwegian Wind Ensemble, from 2014 to 2019 he was artistic director and since 2019 composer in residence of the Zurich Jazz Orchestra. He has written over 100 arrangements for the ensemble and produced a trilogy of three CDs. The first album "Three Pictures" has been chosen as best big band album of the year 2018 by allaboutjazz.com
---
Concerts, TV- and radio broadcasts, festival appearances:
Argentinia, Austria, Benin, Bolivia, Bosnia-Herzegowia, Brazil, Bulgaria, Camerun, Canada, Central Africa, Chile, China, Columbia, Croatia, Czech Republik, Denmark, Egypt, Estonia, Finnland, France, Germany, Ghana, Great Britain, Greece, Holland, Honduras, Iceland, India, Indonesia, Israel, Ivory Coast, Kenya, Liechtenstein, Lithuania, Luxembourg, Madagascar, Mongolia, Mexico, Mozambique, Namibia, Nepal, Nicaragua, Niger, Nigeria, Norway, Pakistan, Paraguay, Peru, the Philippines, Portugal, Russia, Schottland, Sweden, Switzerland, Senegal, Serbia, Singapur, Slovakia, Spain, Sri Lanka, Syria, Thailand, Togo, Turkey, Uruguay, USA, Venezuela, Vietnam, Zimbabwe
---
Collaboration with:
Gerd Albrecht, Jay Anderson, Ray Anderson, Kinan Azmeh, Dave Bargeron, Shirley Bassey, Jim Black, Carlos Benavent, Gery Bertini, Carlos Bica, Greetje Bijma, Allan Broadbant, Bob Brookmeyer, Gary Burton, Uri Cane, Philip Catherine, Don Cherry, Natalie Cole, Bill Dobbins, Peter Erskine, Allery Eskelin, Clare Fischer, Melody Gardot, Roberto di Gioia, Michel Godard, Danny Gottlieb, George Gruntz, Peter Herbert, Peter Herbolzheimer, Peter Herborn, Daniel Humair, Chris Hunter, Terje Isungset, Al Jarreau, Gene Jackson, Harold Jones, Sheila Jordan, Chaka Khan, Steve Khan, Bernd Konrad, Klaus König, Joachim Kühn, Femi Kuti, Ngu-Yen Lee, Howard Levy, Dave Liebman, Geir Lysne, Albert Mangelsdorff, Marilyn Mazur, Vince Mendoza, Don Menza, Frank Möbus, Lars Mœller, Mark Murphy, Simon Nabatov, Mark Naussif, Jovino Santos Neto, Lucas Niggli, Walter Norris, Tony Oxley, Hermeto Pascoal, Don Rader, Diane Reeves, Mike Richmond, John Riley, Dino Saluzzi, Heinz Sauer, A. v. Schlippenbach, Larry Schneider, Maria Schneider, John Schröder, Gina Schwarz, Arkady Shilkloper, Günter "Baby" Sommer, Martial Solal, Tyshawn Sorey, Marc Soskin, Chris Speed, Marvin Stamm, Thomasz Stanko, Helge Sunde, Miroslav Tadiç, Aki Takase, Clark Terry, Jack Wallrath, "Wah Wah Watson", Kenny Wheeler, Nils Wogram, Cuong Wu, Bojan Z, Hannes Zerbe, Itibere Zwarg a.o.
---
Prizes & Awards:
1991 Finalist European Jazz Competition (Schorn Puntin Duo)
1993 Golden Amadeus, 1. Prize Musik Kreativ Wettbewerb
1994 Förderpreis des Landes Nordrhein-Westfalen für junge Künstler
1994 Southern Comfort's Jazzmusician of the Year
1999 Jazz Prize of the German State Baden-Württemberg
2000 SWR-Jazzpreis (Kölner Saxophon Mafia)
2002 Preis der Deutschen Schallplattenkritik (German Record Award) (Kölner Saxophon Mafia)
2003/04 1. Prize "JazzArt" with TRIOSPHERE
2004 Preis der Deutschen Schallplattenkritik (German Record Award) (Kölner Saxophon Mafia)
2009 WDR Jazz Preis (North West German Radio Jazz Award) for composition
2010 Golden Bobby (Verband Deutscher Tonmeister) for "Tiefenträume" – best surround-production 2010
---
Vita:
2022
"CAMILLE CLAUDEL" – premiere, concerts and CD production at radio DLF cologne
"WAY To BLUE – CD release with Gina Schwarz & Multiphonics 8
"TO MY BELOVED ONES" – CD release with Zurich Jazz Orchestra, completing the CD trilogy
"Celebrating the music of George Gruntz" – NDR Big Band conducted by Steffen Schorn
"Wazairo" – Tour with Lars Andreas Haug Band in Norway
2021
Multiphonics Festival – tour with Multiphonics 8 feat. Gina Schwarz
"THE SOUTHERN EDGE" – concert with Lars Andreas Haug Band in Oslo
"PLEASURE out of the TREASURE"- joint project with BuJazzO and WDR Big Band cond. by Steffen Schorn
"THE EUROPEAN JAZZ WORKSHOP" – international large ensemble collaboration with universities and festivals in Olso, Glasgow, Parma, Hamburg and Nürnberg
Concert Tour with Stephan Bauer "PHOENIX"
"DEDICATIONS" CD Release with Zurich Jazz Orchestra
"Young Lions on Stage – 10th Edition" – Jazz-Festival in collaboration with Hochschule für Musik and Jazz Studio Nürnberg
Production of "CAMILLE CLAUDEL" – an inner Opera by Steffen Schorn feat. Ruth Wilhelmine Meyer, voices
Foundation of "THE NUCLEUS" – a Duo and plattform for further collaborations with Roger Hanschel
2020
"Hermeto´s Universe", CD-release with Hermeto Pascoal, Marcio Bahia, Roger Hanschel & the Norwegian Wind Ensemble arranged and conducted by Steffen Schorn
"RIki Zauberlet" – Duo Program and Live-Stream with Ulrike Zavelberg cello
2019
"Wazairo", CD-production with Lars Andreas Haug Band at oceansound recordings, Aalesund, Norway
"the Music of Billy Strayhorn" with Zürich Jazz Orchestra feat. Brandy Butler
premiere of "Melancholia Suite" and "Walzer Suite" with Zurich Jazz Orchestra
featured guest artist with "Blue Whale Big Band", Eckard Baur & Helge Sunde at Serendip Festival, Oslo
Masterclasses and featured guest artist with LMTA Big Band, Vilnius, Lithiania
"Multimulti" trio tour with Reto Suhner and Scott Robinson
"Blue Whale Big Band" @ Festival Voss, Norway
"Wazairo" – Lars Andreas Haug Band @ Canal Street Festival, Arendal, Norway, CD release
"Ella" with Zürich Jazz Orchestra feat. Brandy Butler
"Best of Don Ellis" with Zürich Jazz Orchestra feat. Thomas Gansch & Milcho Leviev
"Expressivity" with Zürich Jazz Orchestra feat. Dave Liebman
"Roaring Hooves" central asian contemporary music festival, Mongolia
"Was Weite Herzen Füllt" CD release concert celebrating 50 years Raschèr Saxophone Quartet
"Monster Suites" Steffen Schorn, Roger Hanschel, Subway Jazz Orchestra
2018
"Ella" with Zürich Jazz Orchestra feat. Brandy Butler
Jazz-Gipfel Konstanz with Raschèr Saxophone Quartet & Roger Hanschel
"Cuban Night" with Zürich Jazz Orchestra feat. Juan Munguia
CD-production with Norwegian Wind Ensemble, Music of Hermeto Pascoal
"Don Ellis Reloaded" with Zürich Jazz Orchestra feat. Thomas Gansch
CD-release "Three Pictures" Zurich Jazz Orchestra "Best big band album of the year " (all about jazz.com)
Tour with Erika "Stucky con Carne"
"Cellular Structures" at Jazzfestival Schaffhausen  ZJO feat. Julia Philippens, violin
CD-release "Work Smoothly" NDR Big Band feat. Nils Wogram
"Saxophone-Xperience"- Nurnberg Symphonic Orchestra conducted by Steffen Schorn
"Hermeto Pascoal – Brazil Universo" – artistic director Bujazzo (Federal Youth Jazz Orchestra of Germany)
CD-release "Cellular Structures", Donaueschningen 2000, feat. Howard Levy, Claudio Puntin, Jay Anderson
CD-recording with Hermeto Pascoal and Marcio Bahia in Rio di Janeiro
"Birth of the Cool & Miled Ahead" feat. Matthieu Michel & Zurich Jazz Orchestra, Zurich
2017
"Weite Herzen" w. Roger Hanschel & Raschèr Saxophone Quartet at Jazzfest Gütersloh, ARTE TV
CD-recording w. Roger Hanschel & Raschèr Saxophone Quartet
"80 years of greatness – celebrating Don Ellis" with Zürich Jazz Orchestra feat. Thomas Gansch
"1-2-3" / Songbook vol. 3 – ZJO celebrating the music of Bob Florence
"Cellular Structures" – Large Ensemble TAM Festival for New Music Nürnberg
"Remembering George Gruntz" – Zürich Jazz Orchestra feat. Erika Stucky
"Young Lions on Stage" – Jazz Festival @ Hochschule für Musik Nürnberg
CD-recording "Work Smoothly" NDR Big Band feat. Nils Wogram
"Frioms & the Brown Note", low frequency meeting in Arendal, Norway
"Jazz ain´t what it used to be" – Zürich Jazz Orchestra feat. Nils Wogram
CD release tour with Niels Klein Large Ensemble "LOOM"
CD-recording of "Three Pictures" with ZJO
"Porgy & Bess" – celebrating Gil Evans & Miles Davis – ZJO feat. Matthieu Michel
2016
"No Moon, Snow out there" with Zürich Jazz Orchestra at WDR Jazzfest
Premiere of "Three Pictures" with Roger Hanschel and Raschèr-Saxophone Quartet
"Celebrating the Music of Don Ellis" with Zürich Jazz Orchestra feat. Thomas Gansch
CD-Production with Rainer Tempel Big Band
Tour with Lars Andreas Haug Band in Norway
Festival Young Lions on Stage, Hochschule für Musik Nürnberg
Composer/Conductor of "Jazz@Large", Theaterhaus Stuttgart
Premiere of "The mad code" for solo piano by Susanne Kessel in Bonn
CD-release "A Rosa" Dutch National Youth Symphony Orchestra & Big Band (NJJO Metropole)
"From Inner Heart to Outer Space" with Zürich Jazz Orchestra feat. Scott Robinson
"Latin Groove" with Zürich Jazz Orchestra feat. music of Peter Herbolzheimer
"Groove Merchant / Groovetime" with Zürich Jazz Orchestra feat. music of Thad Jones
"Some Moments in Life" – Songbook with Zurich Jazz Orchestra
2015
CD-Production and concerts with Lars Andreas Haug "Frioms & the Brown Note" in Arendal, Norway
"Space Night" with Zürich Jazz Orchestra
"The Music of Hermeto Pascoal" with Zürich Jazz Orchestra feat. Marcio Bahia
Memorial Concert for Peter Neff – new project with Roger Hanschel and Raschèr-Saxophon Quartet
"Dreamtime Suite" with Zürich Jazz Orchestra
"Groove Time" with Zürich Jazz Orchestra
"Tiefenträume" – Steffen Schorn Septet at Art-of-Jazz in Nürnberg, Kemptener Jazz Frühling, MOODS Zürich
"Summer Hummer" Artistic Director National Youth Symphony Orchestra & Big Band (NJJO Metropole)
CD-release "Tiefenträume" Steffen Schorn Septet in Dolby Surround 5.1 at Pure Audio Records (CD and Blu-Ray)
CD-release "Soul Twins" with Lars Andreas Haug, Tuba at Glacier Records (CD & Vinyl)
"Faces of East" with Zürich Jazz Orchestra
"La Pasion" with Zürich Jazz Orchestra
2014
Premiere of  "Three Pictures" at Vibraphonissimo Festival Nürnberg
Tiefenträume – with Norwegan Wind Ensemble at WDR Jazzfest in Gütersloh
Duo with Lars Andreas Haug (Tuba), Festival for New Musik "Schönes Wochenende", Tonhalle Düsseldorf
Tour with Lars Andreas Haug Band in Germany and Norway
"La Passion" Portraitconcert with Sunday Night Orchestra Nürnberg
"Global Dance Kulture XL" conducting WDR Big Band, Köln, Philharmonie
International Bassklarinet Festival Amsterdam
Int. Jazz Open Stuttgart, commissioned work and conductor SWR Big Band & Radiosymphonieorchester Stuttgart
"The Opener" first concert as new artistic director of Zurich Jazz Orchestra (ZJO)
"Tribute to Buddy Rich" Zurich Jazz Orchestra feat JOJO Meyer
2013
Frankfurter Positionen – premieres of young composers with Ensemble Modern
Tiefenträume – norwegian CD-Releaseconcert with the Norwegan Wind Ensemble in Trondheim
LOOM – DLF CD-Production with Niels Klein Large Ensemble
"Changeover" by Vito Zuraj – premiere with Ensemble Modern and SRO Stuttgart
Bodek Jankes Global Dance Kulture XL – WDR Big Band arranged and conducted by Steffen Schorn
Young Lions on Stage – International Jazzfestival Nürnberg with Artists-in-Residence
Jim Mc Neely, Scott Robinson, Jovino Santos Neto, Marcio Bahia
"Mega Saxophone Night"- premiere of the Latin-Suite "La Passion" with a new
30-piece Saxophoneorchestra
Foundation of Steffen Schorn Trio with Roger Hanschel and Hubert Nuss
Altensteiger Musiksommer – Orchester-Workshop West Side Story with the Jugend Orchester
Live – CD "Balkan Clarinet Summit"commissioned by Goethe Institut
CD-release "Tiefenträume" bei Inakustik
Plushmusic Festival with Hayden Chisholm, Loft Köln
Portraitconcert with Zürich Jazz Orchestra
Ensemble Modern, new work by Vito Zuraj
2012
ARTE-TV-Feature
Guest Conductor SWR-Big Band, CD-Production: 60 Jahre Baden-Württemberg
Realtime Symposium Oslo guest conductor NWE
Performance of "Cellular Structures" with the Norwegian Wind Ensemble in Oslo
Mix of the CD "Tiefenträume"- Norwegian Wind Ensemble at Rainbow Studio Oslo
Concerts with Big Band der Hochschule für Musik Nürnberg
CD-release SWR Big Band: Jubilee 60 Jahre Baden-Württemberg
"Inner Vibes of Love" – guest conductor NDR-Big Band, music of Roger Hanschel
Balkan-Clarinet-Summit with Claudio Puntin in Athen, Brasov, Thessaloniki
"Rotations" – commissioned work for Ensemble Kontraste, Nürnberg
Balkan-Tour with Balkan-Clarinet-Summit
2010/2011
CD-release tour with Johannes Lauer´s "Lauer Large"
Artistic director of the Bujazzo (National German Youth Jazz Orchestra)
in collaboration with Lars Møller, Geir Lysne (European Jazz Composers Network)
"Inner Vibes of Love"- the Music of Roger Hanschel – arranger and guest conductor with NDR Big Band Hamburg
"Wirx" – inter-related chaos and structure – improvisation project with Dieter Mack at Nürnberg Music Academy
Steady guest conductor, composer, arranger, program curator with the Norwegian Wind Ensemble
recent concert projects: "Brazilia", "Tango Nuevo", "Cellular Structures" (Oslo Jazz Festival), "Tiefenträume"
Steffen Schorn´s "Universe of Possibilities" – Jazz Fest Bonn, CD production
"Moving Mountains" –  CD production with Lucerne Jazz Orchestra & Claudio Puntin – coach and recording supervisor
"Tuvawabohu – Mongolia!" – conductor with Frankfurt Radio Big Band and mongolian guest artists at 41. German Jazz Festival
CD-release "Universe of Possibilities"
Artist-in-Residence with Danish Chamber Players, commissioned work for Fuglsang Summer Festival
Guest Conductor, Arranger and Solist Gotlands Music Ensemble (Sweden)
Celebration: 20 Years Schorn Puntin Duo
2009
"Women in Jazz" – musical director of the Bujazzo (National German Youth Jazz Orchestra),
concerts at Philharmonie Essen and Theater Halle
Guest conductor and arranger of the Norwegian Wind Ensemble
CD-release and concerts with Geir Lysne Ensemble "The Grieg Code"
CD-release "Fragrant Moondrops" with Martin Fondse´s Starvinsky Orkestar
CD-production and concerts in Denmark with Lars Mœller & "The Orchestra"
concerts with Kölner Saxophon Mafia in Tchech Republik, Luxemburg and Holland
Artist in Residence at Landesjazzfest Baden-Württemberg in Konstanz
Foundation of "Steffen Schorn´s Universe of Possibilities"
WDR Jazz Prize (North West German Radio Jazz Award) for composition
guest conductor of WDR Big Band Cologne
"Freedom in Structure" – duo performance with Shannon Mowday at Norwegian State Academy of Music, Oslo
2008
Foundation of the "European Jazz Composers Network" (EJCN) in Copenhagen
Workshop and concerts with the Big Band of the Konservatorium Aarhus, Denmark
Musical director of  "Summer Hummer" for Symphonic Orchestra and Big Band,
feat. Martin Fondse und Claudio Puntin, Atrium-Klänge Nürnberg
"The Grieg Code" CD-production with Geir Lysne Enseble at Rainbow Studio Oslo
CD-production and concerts with Martin Fondse´s "Starvinski Orkestar" (Holland)
"Roarig Hooves", New Music Festival Ulan Bator, Gobi Desert (Mongolia)
Tours of Syria, England, Austria, Italiy with Helge Sunde Norske Store Orkester "Denada" (Norway)
Tour of Denmark with Lars Mœller & "The Orchestra + Danish Chamber Players"
CD-release "Blauklang"  with Vince Mendoza, Peter Erskine, Ngu-Yen Lee, Lars Danielson
2007
concerts as guest conductor and composer with
WNBB Köln, Cologne Contemporary Orchestra
Tage Aktueller Musik Nürnberg
BR-Studiokonzert with Alejandro Sanchez Nonett+1
"Tudo E Som – All is Sound" music by Hermeto Pascoal – concert with the Mannheim Jazz Orchestra
"The Grieg Code" festival appearances in Bergen und Oslo with Geir Lysne Listening Ensemble
"Blauklang" – WDR-production, Traumzeit Festival Duisburg with Vince Mendoza, Peter Erskine, Ngu-Yen Lee
"Brasileiro – music by Hermeto Pascoal" – CD-production with HR-Big Band
"Nur nicht aus Liebe weinen" – CD production with Kölner Saxophon Mafia
2006
15 years Schorn Puntin Duo (CD-production)
25 years Kölner Saxophon Mafia (CD-production)
Traumzeitfestival-premiere of the "Dreamtime-Suite" (Steffen Schorn Septett)
"Soccer-Noize" – invitation to Johannesburg, special event during opening of WM (Triosphere feat. John Schröder)
"Brasileiro" – the music of Hermeto Pascoal": concerts with the HR-Big Band
Premiere "Infra für tiefe Töne" by Johannes Fritsch (with Carl Ludwig Hübsch, Tuba, Michael Riessler, contrabass clarinet and Steffen Schorn, subcontrabass saxophone)
2005
Tour of Serbia: Belgrad (Ring Ring Festival), Novi Sad, Kragujevaç (Duo)
Tage Neuer Musik Nürnberg
BR-radio production, tour with Alejandro Sanchez Nonett+1
Festival "Jazz in Duketown", NL/s'Hertogenbosch (Triosphere)
WDR-radio production, Traumzeit Festival Duisburg (Nils Klein Tentett)
Concerts with Hermeto Pascoal e Grupo
Tour of Lisbon (Triosphere)
Concerts with Lucas Niggli Big Zoom
Tour of South Afrika, Namibia, Mozambique, Zimbabwe, Kenia, Madagaskar (Triosphere)
CD-release, tour Nils Wogram Septet
BR-radio production Steffen Schorn Septett
World Bass Clarinet Convention NL-Rotterdam (Duo)
CD-production Triosphere
2004
1. Prize JazzArt NRW with TRIOSPHERE
CD-release "TRIOSPHERE" (Jazz'n'Arts Records), German Record Award
Tour with Lucas Niggli's "Big Zoom"
Musiktriennale Köln (Triosphere)
Production of the actual CD "Spaceplayer" (Kölner Saxophon Mafia), German Record Award
CD-production/release Nils Wogram's "Odd & Awkward" Septet
2003
Tour of Abidjan / Ivory Coast (Kölner Saxophon Mafia)
Member of the DAAD
Rheingau Festival (Kölner Saxophon Mafia)
"Requiem für einen rastlosen Geist" – commissioned work by the WDR
Kontakte – Triosphere & Lauttenkompagney (Ensemble for Old Music) – Project with the BR (Bavarian Radio) – for "Fränkischer Sommer 2003"
Jazz International Rotterdam – soloist of the festival ensemble / Schorn Puntin Duo
Arrangements and CD-production for "Songlines" & string quartet
Tour with Nils Wogram's "Odd & Awkward" Septet
"Bühne frei im Studio 2" BR (Bavarian Radio) -live-production (Steffen Schorn Septet)
Tour of Vietnam, European Music Festival (Schorn Puntin Duo)
2002
Tour of Estonia, collaboration with the National Ballet Tallin (Schorn Puntin Duo)
Tour of South- and Central America (DUO)
PREIS DER DEUTSCHEN SCHALLPLATTENKRITIK (German Record Award) (Kölner Saxophon Mafia: "20 Jahre saxuelle Befreiung")
Tour of Madagascar (Kölner Saxophon Mafia)
"For me is just now anytime": production / concerts with the HR-Big Band Frankfurt
2001
Tour of Estonia, Finnland, Russia (DUO)
Professor of composition and saxophone, Musikhochschule Nürnberg, Head of Jazz Department
Jubilee: 20 years Kölner Saxophon Mafia, current CD-production
Jubilee: 10 years Schorn Puntin Duo, new CD-production
2000
Musical director INT. NEW JAZZ MEETING BADEN-BADEN with Claudio Puntin
premiere "CHIANG MAI SUITE", ZKM Karlsruhe (Big Band Explosion & DUO)
premiere of the Suite "TIEFENTRÄUME" (NDR Big Band, DUO)
Foundation of "TRIOSPHERE": Steffen Schorn, Roger Hanschel, Dirk Mündelein
premiere & studio concert "Bb•A•C•B" for TRIOSPHERE & HR-Big Band Frankfurt
ends professional association with the NDR-Big Band
commissioned work "Cellular Structures" for DONAUESCHINGER MUSIKTAGE 2000
China-Tour (Kölner Saxophon Mafia)
Tour of Bolivia (DUO)
1999
Festival Performances "MAS QUE MUSICA", LISBON, PORTUGAL (DUO)
Musical director of the project "DUO & BIG BAND" (NDR-Big-Band, and DUO)
JAZZ PRIZE OF THE GERMAN STATE BADEN-WÜRTTEMBERG
South America-Tour NDR-BIG-BAND
SWR-JAZZ PRIZE (Kölner Saxophon Mafia)
1998
European-Tour GEORGE GRUNTZ CONCERT JAZZ BAND
"JAZZFACTS", Portrait (radio broadcast) Deutschlandfunk
Tour of the USA and Canada GEORGE GRUNTZ CONCERT JAZZ BAND
Musical director of MARK NAUSSIF's "Solos and Satellites" with MICHEL GODARD, MIROSLAV TADIC, WALTER QUINTUS (Live- Electronics), NDR BIG BAND
1997
Int. Festival "Whoops That Clarinet" in Grooningen, NL
Tour of Egypt GEOGRE GRUNTZ CONCERT JAZZ BAND
Tour of the USA, Performances at the KNITTING FACTORY, New York, NY
Invitation to perform at the international "CLARINET FEST 97" in Lubbock, Texas (DUO)
Foundation of the STEFFEN SCHORN SEPTET, member of the NDR BIG BAND Hamburg
1996
Tour of China und Thailand, INT. JAZZ FESTIVAL BEIJING (Duo)
musical director of the BOBBY BURGESS BIG BAND EXPLOSION
member of the GEORGE GRUNTZ CONCERT JAZZ BAND, Russian-Tour
Guest conductor of the NDR-BIG BAND, realization of the first "Self-Portrait"
1995
opening of Steffen Schorn's own recording studio
Duo Tour of West Africa (by invitation of the Goethe-Institut)
1994
FÖRDERPREIS DES LANDES NRW FÜR JUNGE KÜNSTLER (Duo)
"SOUTHERN COMFORT'S JAZZMUSICIAN OF THE YEAR" (Duo)
member of the KÖLNER SAXOPHON MAFIA, India-Tour
1993
Winner of the "GOLDEN AMADEUS 1993" (Schorn Puntin Duo)
1992-96
Brazilian tours with Claudio Puntin, concerts mit HERMETO PASCOAL e GRUPO
1991
foundation of the STEFFEN SCHORN & CLAUDIO PUNTIN DUO
student of Prof. SERGIU CELIBIDACHE at the University Mainz (musical phenomenology),
Finalist, EUROPEAN JAZZ COMPETITION (Schorn Puntin Duo)
1990
foundation of the TIMELESS ART ORCHESTRA with Klaus Graf
1990-96
Student of Bass Clarinet, Contemporary Music, Rotterdam (Henri Bok) examination and graduation 1996
1988-92 Student of Saxophone, Jazz, Musikhochschule Köln
1987-91 National German Youth Jazz Orchestra
1986-88 National German Youth Symphony Orchestra (Geri Bertini, Gerd Albrecht)
1986-90 Youth Jazz Orchestra of the German State Baden-Württemberg
1981 changed from trumpet to saxophone, self-taught
1975 first original compositions
1973 first trumpet lessons
1967 born in Aalen (Baden-Württemberg, Germany
---
Gina Schwarz & Multiphonics 8:
"Way to Blue" (2022)

Melody Gardot:
"Sunset in the Blue" (2022)

Jürgen Friedrich Large Ensemble:
"SEMISONG" (2022)

Zurich Jazz Orchestra, Steffen Schorn:
"To My Beloved Ones" (2022)
"Dedications" (2021)
"Three Pictures" (2018)
Norwegian Wind Ensemble conducted by Steffen Schorn
Hermeto Pascoal | Marcio Bahia | Roger Hanschel
"Hermeto´s Universe" (2020)
Raschèr Saxophone Quartet
Steffen Schorn | Roger Hanschel
"Was Weite Herzen Füllt" (2019)
Steffen Schorn Ensemble
"Cellular Structures" (2018)
NDR Big Band, Nils Wogram:
"Work Smoothly" (2018)
Rayka Wehner:
"Short Stories" (2018)
NJ(J)O Young Metropole:
"A Rosa" (2016)
Ensemble Modern:
"Changeover" Vito Zuraj (Wergo, 2015)
"Ensemble Works II" Marcus Antonius Wesselmann (NEOS 2016)
Steffen Schorn Septet
"Tiefenträume" (Pure Audio, 2015) – CD & Bluray in Dolby Surround 5.1
Steffen Schorn & Lars Andreas Haug:
"Soul Twins" (Glacier Records) – CD & LP
Balkan Clarinet Summit
"Many Languages one Soul" (Piranha Records)
Norwegian Wind Ensemble
"Tiefenträume" (Norwind)
Marcio Bahia
"Quebrando Tudo"
Lars Andreas Haug Band
"Conrairo" (2015)
"Wazairo" (2019)
Steffen Schorn´s Universe of Possibilities
"Universe of Possibilities" (JS 5044)
Nguyen Le
"Signature Edition" (ACT)
Lars Møller & The Orchestra
"Episodes"
Dave Liebman & Brussels Jazz Orchestra
"Guided Dream"
Steffen Schorn & SWR Big Band
"Die Besten aus Südwesten"
Steffen Schorn & HR-Big Band:
"Viva o Som – the Music of Hermeto Pascoal (hrmj 043-09)
Schorn Puntin Duo:
"Elephants' Love Affair" (NCC 8002)
"Sketches for Woodwinds" (SONOTON SCD 274)
Triosphere:
"Triosphere" (Jazz'n'Arts Records – 2304) Preis der deutschen Schallplattenkritik
Kölner Saxophon Mafia:
"Nur nicht aus Liebe weinen" (2007)
"Spaceplayer" (JHM 132) Preis der deutschen Schallplattenkritik
"20 Jahre Saxuelle Befreiung" (JHM 115) Preis der deutschen Schallplattenkritik
"Licence to Thrill" (JHM 100)
"Place for Lovers" (JHM 82)
"Levada" (V. I. F. Flötenquartett – NCC 8001)
Lauer Large:
"Konstanz Suite" (jazzwerkstatt 07)
"Less beat more" (jazzwerkstatt)
Geir Lysne Ensemble:
"The Grieg Code" (ACT )
Martin Fondse´s Starvinsky Orkestar:
"Fragrant Moondrops" (Basta 3091972)
Vince Mendoza:
"Blauklang" (ACT 9465-2)
Nils Wogram Sextet/Septet/Octet:
"Odd and Awkward" (ENJ-94162)
"Swing Moral" (ENJ-)
"Complete Soul"
Alejandro Sanchez Nonett+1:
"Schärfe einer Sekunde" (J4E 4781)
WDR-Big Band:
"Cosmopolitean Greetings" (George Gruntz, Mark Murphy, Sheila Jordan, Ray Anderson)
"Carambolage" (Joachim Kühn, Daniel Humair, J. -F. -Kenny-Clark)
"JAZZPANA" (ACT 9212-2) (Vince Mendoza, Michael Brecker)
Timeless Art Orchestra:
"Without Words" (SDP 1005-1)
German Jazz Orchestra:
"First Take" (MONS 874669)
Bobby Burgess Big Band Explosion:
"Butter's Idea" (BLR 84069)
Bach, Blech & Blues:
"Klangwelten" (& Windsbacher Knabenchor)
"Triptychon" (Berlin Classics 0094012BC)
George Gruntz Concert Jazz Band:
"Live at Jazzfest Berlin" (TCB99452)
"Merryteria"
"Expo Triangle" (MGB CD 6170)
Peter Herbolzheimer RC&B:
"Friends & Silhouettes" (KOALA)
"25 Years-die 80er und 90er" (KOALA)
"Colours of a Band" (MONS)
NDR-Big-Band:
"Ellingtonia" (ACT 9233-2)
KölnMusik Big Band:
"In Concert" (BPA 36453)
Nils Landgren:
"Paint it Blue" (ACT 9243-2)
Roberto di Gioia:
"Marsmobil – Strange World" (Act 9602-2)
Paul Heller:
"Kaleidoscope" (MONS)
Martin Fondse Oktett "DE 8-Baan":
"8xG" (Rollercoaster Music)
Pe Werner:
"Los"
PUR:
"Seiltänzertraum"
Songlines & Maria da Fatima:
"La Luna" (Musicom)