---
---
 
---
preproduction: september 2022, Oslo/Brühl
concert tour: november 15-20, december 2022
CD recording: november 21-24, 2022 @ DLF, cologne
(english see below)
Steffen Schorn Komponistenportrait auf Arttourist

---
Ich freue mich sehr über mein neues Projekt über die französische Bildhauerin
Camille Claudel (1864-1943), das vor über 30 Jahren in meinem Herzen initiiert wurde.
In den letzten 2 Jahren habe ich den Kompositionsprozess neu gestartet und Ideen gesammelt, die nun in eine konkrete Form einfließen:
---
Das Werk setzt sich mit Leben und Werk einer starken Frau auseinander, die ihrer Zeit voraus war und von ihr gebrochen wurde –
Schönheit, Stärke, Genie, Tapferkeit, Leidenschaft, Expressivität, Liebe, Wahn – und ein tragisches Schicksal, das sie die letzten 30 Jahre ihres Lebens in der Nervenheilanstalt Montdevergues dahinsiechen liess, bevor sie 1943 in einem Massengrab beigesetzt wurde.
---
Im Zentrum steht die norwegische Ausnahmekünstlerin Ruth Wilhelmine Meyer, die sich mit ihrer aussergewöhnlichen Vokaltechnik, einem Tonumfang von 7 Oktaven und ihrer ausdrucksstarken Künstlerpersönlichkeit auf die innere Reise begibt, in die komplex-emotionale Welt der Camille Claudel einzutauchen und zu klanglichem Leben zu erwecken.
---
Die Musik entfaltet sich aus einem strengen Kompositionsprozess, in dem Klangskulpturen gestaltet, innere und äußere Welten erforscht und ein Tonmaterial entwickelt wird, das in seiner harmolodischen Struktur vielschichtig kombinierbar ist und die Komplexität des Themas sinnlich spürbar werden lässt.
Kristallklare Klang-Gesten von purer Schönheit und Sinnlichkeit gehen mit schroff-verstörenden Klang-Texturen sowie durchkomponierten Strukturen ein wechselseitiges Drama ein.
---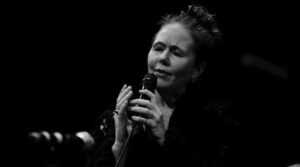 ---
Neben ihrem außergewöhnlichen Tonumfang von über 7 Oktaven und ihrer vielfarbigen, flexiblen und sehr berührenden Gesangsstimme ist Ruth Wilhelmine Meyer aus Oslo insbesondere eine herausragende Expertin darin, Zwischen-Klänge zu kreieren, die ausgefeilte und teils exotische Gesangstechniken verwenden, den Raum zwischen Klang und Stille, Rauheit und Schönheit, Form und Material, Konkretem und Abstraktem erforschend, auf dem schmalen Grad zwischen extremen Emotionen und Seelenzuständen balancierend…
---
Die Mitglieder des Ensembles sind allesamt virtuose Instrumentalsolisten und Improvisatoren mit einer unverwechselbaren individuellen Klangsprache, die gleichwohl in der Lage sind, mit der Stimme im Gesamtklang zu verschmelzen:
---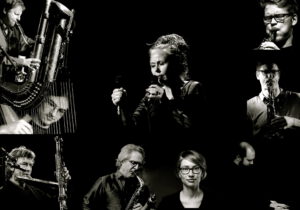 ---
Ruth Wilhelmine Meyer
multi vocal artist
---
Michael Heupel
piccolo, flute, alto-, bass-, contrabass-, subcontrabass flutes
https://www.jazzfest-bonn.de/en/michael-heupel-2/
---
Rebecca Trescher
clarinet, alto clarinet, bass clarinet
---
Roger Hanschel
sopranino-, soprano-, F-mezzosoprano-,
alto saxophones, flute, alto clarinet
---
Julian Bossert
soprano-, alto,- tenor saxophones, flute, clarinet, alto clarinet
---
Stefan Karl Schmid
flute, alto flute, clarinet, alto clarinet, bass clarinet, tenor saxophone, baritone saxophone
---
Lars Andreas Haug
tuba, soprano saxophone, voice
---
Johannes Billich
piano, keyboards, percussion
---
Anton Mangold
concert harp, alto saxophone, soprano saxophone, flute

---
Steffen Schorn
concept, composition, arrangement,
various instruments, sound design
---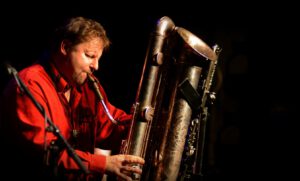 ---
english:

---
I am very excited about my new project about the french sculpturer Camille Claudel (1864-1943) which has been initiated in my heart 30 years ago. During the last 2 years I restarted the composition process, collecting ideas which now flow into a concrete form.
The piece is about the beauty, art, genius, braveness, expressivity, love, passion, destiny, and tragic live story of a strong woman ahead of and broken by her time. It´s also about unfolding sonic sculptures, exploring inner and outer worlds, and trying to create a holding space for a healing process "outside" the linear historic timeline.
As in my former larger works (Tiefenträume, Bb•A•C•B, Cellular Structures, Melancholia…), the musical (harmolodical) material is completely and strictly developed out of initial core elements that can be combined in manyfolded multidimensional layers. Additional layers and a parallel world are the non-tonal elements of sculpturing in themselves:
the sounds of clay, stone, marble, copper, bronze, wood – the act of creating, hammering, scratching, breathing, forming…
---
Besides her exceptional range of 7 octaves and her colorful, flexible and very touching singing voice, Ruth Wilhelmine Meyer is especially an outstanding expert in creating "in between" sounds that use several sophisticated vocal techniques, exploring the space between sound and silence, roughness and beauty, form and material, concrete and abstract, riding on the small edge between the many extreme emotions…
---
preproduction: september 2022 Oslo/Brühl
concert tour: november 15-20 & december 2022
CD recording: november 21-24, 2022 @ DLF, cologne

---
In 2024 it is planned to do an extended version with the Norwegian Wind Ensemble.
Listen to previous CD´s with Steffen Schorn & the Norwegian Wind Ensemble:
TIEFENTRÄUME (2018)                 HERMETO´S UNIVERSE (2020)
---
français:
Je suis très excité par mon nouveau projet sur la sculptrice française Camille Claudel (1864-1943) qui a été initié dans mon cœur il y a 30 ans. Au cours des deux dernières années, j'ai repris le processus de composition, rassemblant des idées qui prennent maintenant une forme concrète.
La pièce parle de la beauté, de l'art, du génie, de la bravoure, de l'expressivité, de l'amour, de la passion, du destin et de l'histoire tragique d'une femme forte, en avance sur son temps et brisée par celui-ci. Il s'agit également du déploiement de sculptures sonores, de l'exploration des mondes intérieurs et extérieurs, et de la tentative de créer un espace d'attente pour un processus de guérison "en dehors" de la chronologie historique linéaire.
Comme dans mes œuvres antérieures de plus grande envergure (Tiefenträume, Bb-A-C-B, Cellular Structures, Melancholia…), le matériau musical (harmolodique) est entièrement et strictement développé à partir d'éléments de base initiaux qui peuvent être combinés en couches multidimensionnelles multiples. Les couches supplémentaires et un monde parallèle sont les éléments non-tonaux de la sculpture en soi :
les sons de l'argile, de la pierre, du marbre, du cuivre, du bronze, du bois – l'acte de créer, de marteler, de gratter, de respirer, de former…
En plus de sa gamme exceptionnelle de 7 octaves et de sa voix colorée, flexible et très touchante, Ruth Wilhelmine Meyer est surtout une experte hors pair dans la création de sons "entre" qui utilisent plusieurs techniques vocales sophistiquées, explorant l'espace entre le son et le silence, la rugosité et la beauté, la forme et la matière, le concret et l'abstrait, chevauchant sur le petit bord entre les nombreuses émotions extrêmes…
---
Steffen Schorn Komponistenportrait auf Arttourist
---
Ruth Wilhelmine Meyer
voix artiste
---
Michael Heupel
Piccolo, flûte, flûtes alto, basse, contrebasse, subcontrebasse
---
Rebecca Trescher
Clarinette, clarinette alto, clarinette basse
---
Roger Hanschel
axophones soprano, soprano, mezzo-soprano en fa, alto, flûte, clarinette alto
---
Julian Bossert
Flûte, clarinette, clarinette alto, saxophones soprano, alto, ténor
---
Stefan Karl Schmid
Flûte traversière, flûte alto, clarinette, clarinette alto, clarinette basse, saxophone ténor, saxophone baryton
---
Lars Andreas Haug
tuba, saxophone soprano, voix
---
Johannes Billich
Piano, claviers, percussions
---
Anton Mangold
harpe de concert, saxophone alto, saxophone soprano, flûte traversière
---
Steffen Schorn
direction artistique: concept, composition & arrangement
différents instruments, sound design
---
préproduction : septembre 2022 Oslo/Brühl
tournée de concerts : 15-20 novembre et décembre 2022
Enregistrement du CD : 21-24 novembre 2022 @ DLF, cologne
En 2024, il est prévu de faire une version étendue avec l'ensemble à vent norvégien.